Bill Hale's book METALLICA: The Club Dayz will be officially released next week (April 1st - and that no fool's day!). For those not familiar with this book, it features amazing never before released photographs that chronicles the band's early Bay Area club shows. A full description of the book is below. It was an honor to work on this book with Bill Hale, many years in the making but we feel the book truly portrays what the Young Metal Attack was all about! I assisted Bill with assembling the photos and writing the text. The book is published by ECW press and will be available worldwide at all the major bookstores. It is currently available for pre-order here at amazon and presently holds the #2 position for hard rock affiliated book orders.
All the best,
Bob Nalbandian
Metallica: The Club Dayz is a collection of photographs of the legendary rock band Metallica that were shot by renown metal photographer Bill Hale during the band's formative years in the Bay Area club circuit between 1982 and 1984.
This book contains rare and exclusive photographs from six of the band's earliest performances including their first shows in San Francisco at The Stone and The Old Waldorf which featured the original lineup with Dave Mustaine (guitar) and Ron McGovney (bass), Cliff Burton's introductory gig with the band at The Stone, the last Metallica show with Dave Mustaine in San Francisco, and Kirk Hammett's Metallica debut in the Bay area.
As chief photographer of Metal Rendezvous International, a groundbreaking heavy rock magazine that was published throughout the '80s, Bill Hale was given unlimited access to hang out with and photograph this then-fledgling metal band. His job at the time was to capture the band onstage and offstage and provide the magazine with unique photographs of the band showcasing their brazen live energy in concert to unveiling some of their crazy and unpredictable backstage antics.
Bill Hale was right there from the very beginning, capturing the band before, during and after their performances. He was at every one of their early Bay Area shows, without the safety of a photo pit, crushed among the savage crowd as they head-banged fearlessly to the music of their local heroes. Here, for the first time Bill Hale opens up his photo vault. Witness one of the greatest rock bands of all time during their embryonic stage.
Influenced musically by the new breed of British metal yet epitomizing the punk rock attitude, Metallica's loud, snotty and don't five a f**k attitude is very evident in these photographs. Most of the photos in this book have never been published and many of the images have never before been revealed to the public. Metallica: The Club Dayz is a long lost chapter of this band's visual history.
Sunday, October 12, 2008
Nothing like shameless promotion. If you are a Metallica fan, it's time to pre-order your own copy of
Metallica: The Club Dayz
by Bill Hale which is released April 1, 2009 from ECW Press.
This great book is going to be filled with one-of-a-kind shots of the band from 'back in the days' and even has shots when Dave was still in the band. Bill Hale, author, worked in the heavy metal industry for a long time and has some killer material. Make sure you aren't the last one on the block to get a copy!
Metallica: The Club Dayz is Metallica's "baby book", photos from the early days, set to be released 4/1/09 by Bill Hale and published by ECW Press. You are invited to re-live the raw, loud and proud days of one of the bands that help bring Thrash Metal to the mainstream as they began their career and before they had a recording contract. The book begins with the original line-up (Dave Mustaine, Ron McGovney, James Hetfield and Lars Ulrich), continues with Cliff Burton's arrival and ends with Kirk Hammett's first show in S.F. The intro's are written by friends of the band (John Strednansky-Editor and Chief of Metal Rendezvous Int. Magazine, Ron Quintana- Metal Mania fanzine and rock DJ, Scott Earl- bassist for Culprit, and of course, Bill Hale-Rock Photographer and Former Chief Photographer / Photo Editor of Metal Rendezvous Int. Heavy Rock - Metal Magazine). A must have for every Metallica fan and anyone who enjoys remembering the good ol' days of 80's Heavy Metal!!
REVIEWS FOR METALLICA THE CLUB DAYZ 1982-1984
5.0 out of 5 stars AWESOME, March 18, 2009
By Edwin Jamieson
Kudos
to Bill Hale for a back stage look at one of the greatest bands. Its
great to see them as not the huge rock stars they are, but as young
kids trying to make it and have fun doing it. I can only hope more
books like this come out from other great bands in rock. A must for any
Metallica fan. How about a sequel with Megadeth?
3/25/09
I got the book today and I must say that it´s awesome. It is truly is a lost chapter in ´tallica history.
The first 20 pages starts with some really cool stories from the old days, one where the author "Bill Hale" talks about when he got invited to rehearsal via phone connection, 300 miles away, and he was one of the first people to hear "Hit The Lights", "Seek" and "Whiplash".
The next chapter is about the late 82 and march 83 shows in SF. Really cool to read about those early show, and even back then at those shows everyone had Metallica patches and pins, and no one where as heavy as them.
Since this is a photobock most is just that. From page 25-112 are a lot of unseen and really awsome pictures.
There are 6 gigs in the book:
1982.09.18
1982.10.18
1982.11.29
1983.03.05
1983.03.19
1983.09.03
all those gigs you´ve maybe read about and listened to, but never got to se what went down.
A cool picture from the 1983.03.05 gig, shows Dave and kirk backstage, first and only picture I´ve seen with them.
All I can say, buy this book, you wont get disappointed.
Like I said, this is truly is a lost chapter in Metallica history.
Master of the beholder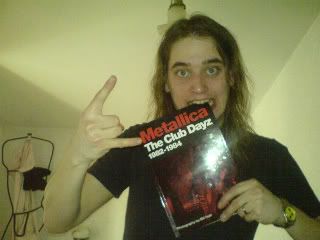 5.0 out of 5 stars A Must For All Hard Core Metallica and MegaDave Fans!, March 26, 2009
By Michael Cosyn (Campbell, CA)
Bill Hale does it again in this cohesive and exclusive collection of photos documenting Metallica's rise towards their legendary metal czar status while cutting their teeth in the club circuit. For those like myself who didn't get to be there, this is as close as we'll get.
Megadeth fans should obviously pick this up as well, as there is a huge dose of Dave throughout this incredible photo compilation.
I look forward to seeing more of Bill Hale's work.
5 STARS!!!